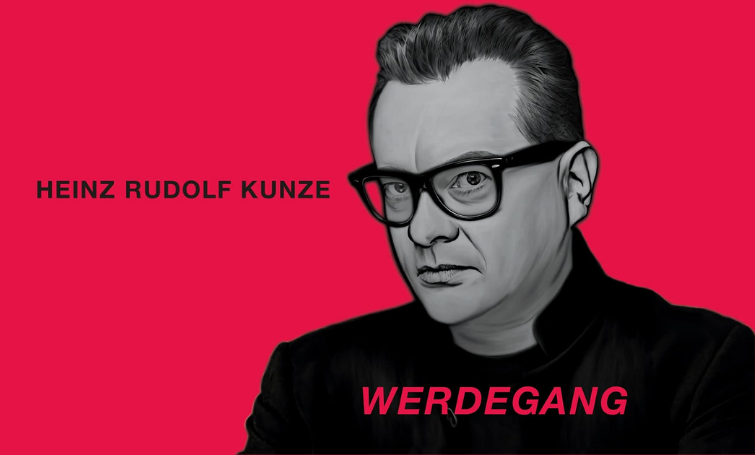 Heinz Rudolf Kunze: best of album and first autobiography
To celebrate 40 years on stage Heinz Rudolf Kunze releases Werdegang.
November 16, 2021
WERDEGANG ALBUM
For his 40th anniversary performing on stage, Heinz Rudolf Kunze created newly interpreted versions of his biggest hits. For this project he recruited 5 producers of a younger generation who worked on finding new arrangements for and rerecord 24 songs. The songs that made it to the album were previously picked by 1000 fans via social media, whose names are all included in the booklet. The whole collection of songs - Werdegang - is far more than a best of album and will be released on November 19. Besides a regular 2CD and a 3LP version, there is also a limited edition that contains a very special gift: for the box set Heinz Rudolf Kunze cut up a piano of his in 1000 parts. Each of the limited edition sets contains one of these numbered piano pieces and is therefore a truly unique edition.
The producers he chose to work on the album all have exciting backgrounds and come from all over Germany: he recorded with Tim Tautorat in the legendary Berlin Hansa Studio, in Hamburg with the wonderful Anne De Wolf and Ulrich Rode and with Steffen Graef and Klaus Sahm. Furthermore, he worked with the bold Jens Schneider and Jules Kalmbacher and worked with his friend Udo Rinklin in Stuttgart. After countless hours in the studio and thousands of km traveled, Heinz is looking forward to present the results.
Pre-oder Werdegang here or whereever you buy CDs.
FINDEN SIE MABEL (2021)
As a single release prior to the album, "Finden Sie Mabel (2021)" was released on October 1st 2021. With approximately 4 million streams the original "Finden Sie Mabel" is one of the most successful songs by Heinz Rudold Kunze, apart from "Dein Ist Mein Ganzes Herz". For Werdegang the song was newly recording with the help of producer Tim Tautorat (AnnenMayKantereit, Provinz, Jeremias, a.o.). Tim Taurorat gave the song a new, modern coat of paint that almost makes you forget that the original version was released over 30 years ago. The mix of Heinz Rudolf Kunze, Tim Tautorat and Hansa Studios could even make you believe that this was a 2021 success story.
Listen to "Finden Sie Mabel (2021)" here: https://heinzrudolfkunze.lnk.to/FindenSieMabel
THE AUTOBIOGRAPHY
His first autobiography with the same name Werdegang is being released at the same time. Werdegang tells the story of success, formative encounters, but also the story of resistance. Moreover, the book is about the hardship and struggle of the 20th century: about his father's SS membership, his mother's experiences in exile and about the feeling of not belong in one place. It's about a childhood and youth during the time of the economic miracle and how music (especially from the UK) found its way into Heinz' basement bedroom and never went away. Werdegang is the personal story of the socially committed human Kunze, who preferred becoming a rock musician rather than a teacher.
Buy the book here.
TOUR
Heinz Rudolf Kunze is on tour in 2022!
Der Wahrheit die Ehre – Tour
NEW DATES
23.04.2022 (davor 20.05.2021) - Halle, Händelhalle
24.04.2022 (davor 22.05.2021) - Dresden, Alter Schlachthof
25.04.2022 (davor 25.05.2021) - Berlin, Columbiahalle
27.04.2022 (davor 30.05.2021) - Cottbus, Stadthalle
29.04.2022 (davor 11.06.2021) - Neuruppin, Kulturhaus
30.04.2022 (davor 13.06.2021) - Erfurt, Thüringenhalle
01.05.2022 (davor 24.05.2021) - Suhl, CCS
03.05.2022 (davor 01.06.2021) - München, Tonhalle
04.05.2022 (davor 21.05.2021) - Chemnitz, Stadthalle
06.05.2022 (davor 29.05.2021) - Magdeburg, Amo
07.05.2022 (davor 28.05.2021) - Leipzig, Haus Auensee
09.05.2022 (davor 04.06.2021) - Dortmund, Warsteiner Music Hall
10.05.2022 (davor 07.06.2021) - Mainz, Frankfurter Hof
11.05.2022 (davor 05.06.2021) - Düsseldorf, Capitol Theater
13.05.2022 (davor 10.06.2021) - Rostock, Moya
15.05.2022 (davor 26.05.2021) - Hannover, Capitol
16.05.2022 (davor 09.06.2021) - Hamburg, Große Freiheit 36
24.06.2022 (davor 02.06.2021) - Nürnberg, Serenadenhof
25.06.2022 (davor 06.06.2021) - Blieskastel, Paradeplatz
Follow Heinz Rudolf Kunze:
Website | Instagram | Facebook | Spotify
Follow SMV:
Instagram | Facebook | Spotify | Twitter