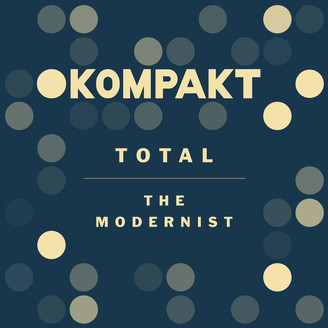 The Modernist releases exclusive digital compilation on KOMPAKT
"Total The Modernist" is now available exclusively as part of KOMPAKT's digital compilation series "TOTAL"
July 28, 2021
Hardly any generation of musicians has mastered the confusion between real person, artist and the various identities and alter egos attached to them as perfectly as that of Jörg Burger aka The Modernist aka The Bionaut aka Burger Industries aka you name it. Jörg Burger is a man of the first hour, a masterful border crosser between techno, house, pop and "Lush Life Electronica" and anyway one of the greats of electronic music history and he is starting off KOMPAKT's "TOTAL" series. The exclusive digital compilation "Total The Modernist" summarizes for the first time a "Best of" selection of the tracks released under this alias on TOTAL.
Like no other, Jörg Burger is able to program such warm bass lines floating on velvet cushions, garnish them with light guitar chords, put the so typical keyboard dabs on top of it, and finally reach for the microphone himself, always stylistically confidently reaching into the treasure chest of pop. The musical journey begins with "Indigo" and "Channel 28", two early classics from TOTAL 2 and 5, which have that typical groove that Jörg Burger should have patented at some point. Like clockwork these tracks run and yet always grant enough soul and warmth not to be crushed by their technical perfection. "Remodernist" by TOTAL 12 gives you an idea of how much Jörg Burger also knows about Acid House, but he's probably the only one who has an acoustic guitar strummed over the whole thing at some point.
And Jörg Burger loves to play with quotes, allusions and references: With "The International Loner" he quotes the legendary Scottish 80s pop band The Associates, the great "Pearly Spencer" from TOTAL 7 covers "The Days Of Pearly Spencer" by David McWilliams in an inimitable modernist way. Then at position 7, "The Price of Love" is another real highlight with Joe Goddard, in which the Modernist pulls out all the stops of his skills. Bluesy, country-esque electronic pop music, elegant, stylish and beyond any doubt.
The Modernist - Total The Modernist is available now exclusively in KOMPAKT's digital download shop.
Follow Jörg Burger:
KOMPAKT Website | Instagram | Facebook | Spotify The Modernist | Soundcloud