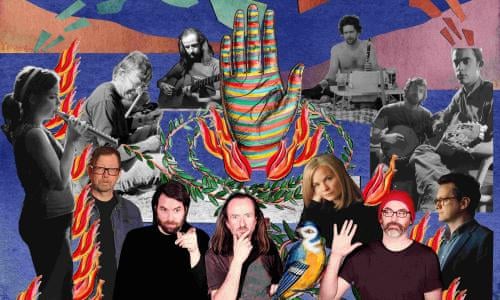 Tunng - new album "Tunng Presents...DEAD CLUB"
UK folktronica collective Tunng's newest album "DEAD CLUB" contains 12 brand new tracks around the topic of death.
November 06, 2020
"Tunng Presents...DEAD CLUB" is contemplative, intimate, celebratory. It includes collaborations with Max Porter, who wrote two new pieces for the album. It draws on the research the band conducted — nods to the Wari people of Brazil who eat their dead, discussions of consciousness and memory, band leader Sam Genders's visit to a death cafe in Sheffield, and the Swedish art of Death Cleaning. It touches on personal loss, and fear, and humour and sorrow and love.
For months the six band members — Genders, Lindsay, Jacobs, Ashley Bates, Phil Winter, Martin Smith — discussed the subject at length. That they are a such a sizeable band, diverse in opinion and perspective, proved helpful: "When all those things come together that's what makes it Tunng," says Genders. "And because the subject of death is so powerful for people in different ways, we talked about the kinds of issues it might bring up, that we might need to be sensitive about." When it then came to actually writing and recording, the process proved startlingly easy. "Because we'd engaged with the subject for so long that it kind of came effortlessly," he says.
Follow Tunng:
Follow SMV:
Facebook
Instagram
Twitter