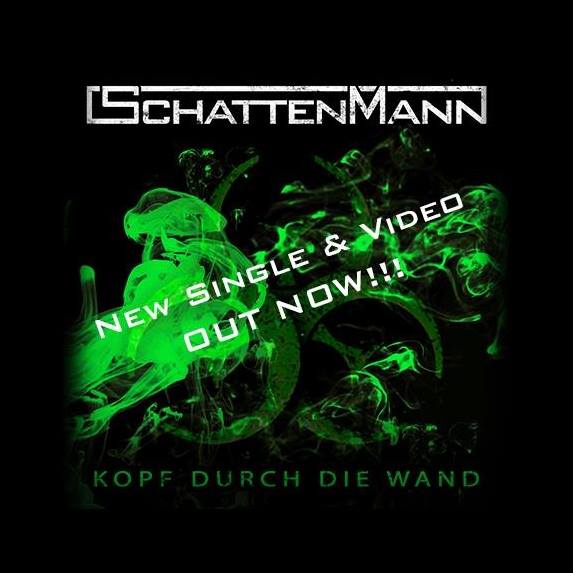 Schattenmann - New Single "Kopf Durch Die Wand" and new album announced
"Kopf Durch Die Wand" is the first taste of Schattenmanns upcoming second album "Epidemie". Along with the track comes a powerful lyric video.
February 15, 2019
"Epidemie" is the name of Schattenmann's second album! It will be the successor to the highly acclaimed album "Licht An" and also happens to be their AFM Records debut.
Now "Kopf Durch Die Wand" has been released, the first single taken from the new album, giving a great first tastes of what to expect from "Epidemie".
"Kopf durch die Wand" is a powerful anthem for all the mavericks and free spirits of this world and describes the quartet's philosophy perfectly.
Epidemie will be out on July 05, 2019.
Schattenmann is on their "Licht An - Tour 2019" right now. Make sure to catch them live to experience their NDH 2.0.
TOUR:
15.02.2019 Leipzig Hellraiser
16.02.2019 Berlin Privatclub
22.02.2019 München Feierwerk
23.02.2019 Nürnberg Cult
01.02.2019 Zofingen (CH) Oxil
02.03.2019 Frankfurt Das Bett
08.03.2019 Flensburg Roxy
09.03.2019 Hamburg Markthalle
22.03.2019 Bremen Tivoli
23.03.2019 Hannover Subkultur [Sold Out]


Follow Schattenmann:
Facebook: https://www.facebook.com/schattenmannband/
Instagram: https://www.instagram.com/schattenmann_official/
YouTube: https://www.youtube.com/channel/UCUJs6HUZbNwUN0wa3h2wIug
Order and listen:
Order: https://fanlink.to/Schattenmann_Epedemie
Spotify: https://spoti.fi/2N7Ikki
Apple Music: https://apple.co/2BAM7Su