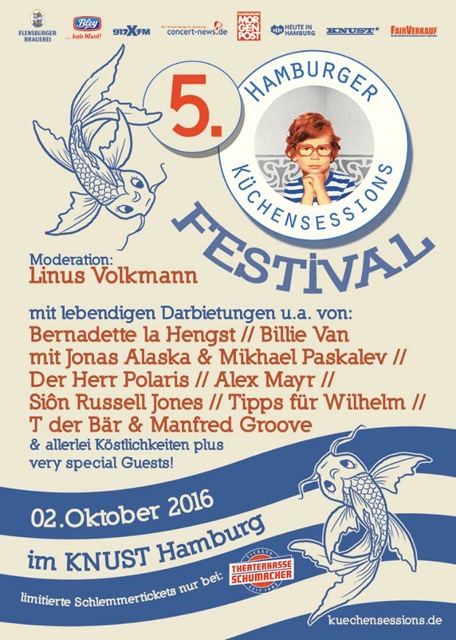 Siôn Russell Jones playing @ 5th "Hamburger Küchensessions Festival" (Hamburg Kitchen Sessions Festival) October 2nd, 2016 @ Knust, 17:00
Siôn Russell Jones is a singer/songwriter from Cardiff, Wales. He has a unique and infectous vocal backed up by intricate guitar melodies and cracking choruses.
August 26, 2016
Since the release of his debut album "And Suddenly", Siôn has had an exciting few years. His latest singles "So Long" and "Best of Me" from his upcoming album "Lost No More" have both received airplay on several BBC radio stations and have been played on British TV programs, and his track "So Long" is regularly played on SRF 3 Switzerland.
In the past two years Siôn has gigged extensively, including showcases at SXSW Music Festival in Texas, Canadian Music Week Toronto and at Rockwood Music Hall New York and many more festivals around Europe. He has suppported Hanson, Newton Faulkner, Mara Carlyle, Jake Morley, Orla Gartland, Heather Nova, Thomas Leeb, Nerina Pallot and Moddi.
It's about time he'll make his way to Germany!
Siôn will be playing at Hamburg's 5th "Hamburger Küchensessions Festival" / "Hamburg Kitchen Sessions Festival" (Knust 02/10/2016), a musical phenomenon well-known throughout Northern Germany and beyond that was started six years ago by Jens Pfeifer. The scene: a small but cozy kitchen. The principle: the artist plays an acoustic set, close to a select audience, pure music! The list of the past guests: Gisbert zu Knyphausen, clickclickdecker, Cäthe, Olli Schulz, Tom Liwa, Enno Bunger and many more.
http://www.kuechensessions.de/sion-russell-jones
Find Siôn online:
http://www.sionrusselljones.com
http://www.facebook.com/pages/Siôn-Russell-Jones-Music-OFFICIAL
http://www.Myspace.com/sionrusseljones
http://www.twitter.com/SRJmusic
http://www.youtube.com/srjmusicofficial