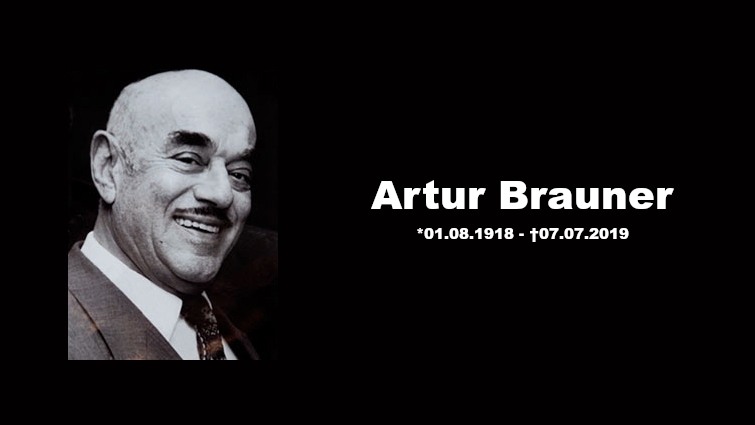 Artur Brauner dies at 100
It is with great sadness that we have to announce the passing of Holocaust survivor, producer and film legend Artur Brauner.
July 07, 2019
In the last decades of his producing Artur "Atze" Brauner's main focus was to process the German Nazi-history, the horror of the Holocaust, the resistance and all the sad and tragic fates. With his earlier works he tried to help post war generations to overcome the dark time of World War II by producing films for entertainment. Now the Polish born Berlin based legend died at the age of 100.

Artur Brauner and his CCC Filmkunst Studios felt at home in nearly every genre. He was the first one to exploit Karl May for the screen, he convinced Heinz Rühmann of playing the role of "Schwejk", he produced "Hollandmädel" together with Sonja Zieman being a huge sucess, he filmed with Klaus Kinski (his first role), Romy Schneider (her last role), Curd Jürgens, Gert Fröbe, O.W. Fischer, Ruth Leuwerik, Maria Schell and many other stars.

Artur "Atze" Brauner was born on August 1st, 1918 in Łódź as Abraham Brauner. Due to persecution by the Nazis during the occupation of Poland he and his family fled into the Soviet Union. Post war Brauner returned to West Berlin, becoming the successful film producer.

Although producing lots of films for easy entertainment - due to the post-war circumstances in the 50s nobody wanted to nor could deal with the past and serious topics in cinemas - Brauner's main concern was to process the German Nazi-history. His first movie dealing with this topic was "Morituri" followed by 20 other movies dealing with Nazi-Germany, resistance and the holocaust, such as "Die Spaziergängerin von Sanssouci" starring Romy Schneider and "Hitlerjunge Salomon", that won the Golden Globe for "Best Foreign Language Film" and was nominated for the Academy Award. What caused quite a stir was the German Oscar committee refusing to submit the film for the category "Best Foreign Language Film" thus preventing it's oscar nomination. The soundtrack for the movie was composed by Zbigniew Preisner.

Artur Brauner also managed to retrieve famous Weimar Republic film directors back to Germany who had to leave their home country before or during the Nazi reign, such as Fritz Lang and Robert Siodmak, to produce new films. For example "Das Indische Grabmah" ("The Indian Tomb") and "Der Tiger von Eschnapur" ("The Tiger of Eschnapur") with Fritz Lang. Both movies had more success abroad than in Germany.

We lost one of the great ones today, but his work and long-life commitment and dedication will always be remembered!
Photo credits:
CCC Filmkunst GmbH