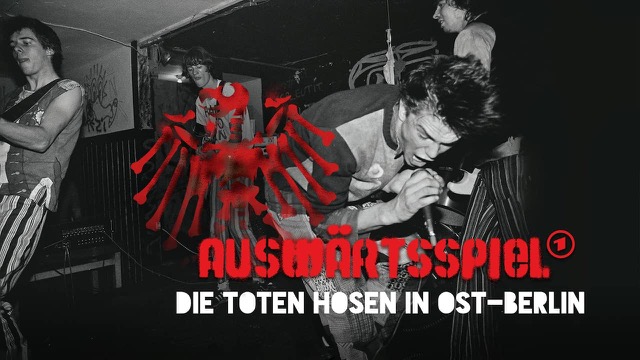 Die Toten Hosen - new TV documentary "Auswärtsspiel: Die Toten Hosen in Ost-Berlin"
For their 40th band anniversary German broadcaster ARD is showing a documentary about the band playing a secret East Berlin concert.
April 09, 2022
The Düsseldorf punk outfit are celebrating their 40th band anniversary. Unbeknownst to the stasi, Breiti, Vom Ritchie (formerly in the band), Campino, Kuddel and Andi played a secret concert in an East Berlin church in the beginning of their career. By the late 1980s, shortly before the German wall was opened, the band managed to repeat this coup. Now they return to the legendary location, they meet contemporary witnesses and companions like members of the East Berlin band Planlos, who helped organize the concert. Singer Campino says (translated from German): "The film reminds us why we came to exist in the first place. I cannot image a better birthday present."
Watch the trailer here and the documentary here or watch it live on TV:
| | | | | |
| --- | --- | --- | --- | --- |
| Sender | Datum | | Zeit | Titel der Sendung |
| Das Erste | Wed | 13.04. | 22:50 | Auswärtsspiel - Die Toten Hosen in Ost-Berlin |
| | Thu | 14.04. | 02:00 | Auswärtsspiel - Die Toten Hosen in Ost-Berlin |
| SWR | Sun | 10.04. | 04:50 | Auswärtsspiel - Die Toten Hosen in Ost-Berlin(2) |
| | Sun | 10.04. | 05:20 | Auswärtsspiel - Die Toten Hosen in Ost-Berlin(3) |
| SWR Rheinland-Pfalz | Sun | 10.04. | 04:50 | Auswärtsspiel - Die Toten Hosen in Ost-Berlin(2) |
| | Sun | 10.04. | 05:20 | Auswärtsspiel - Die Toten Hosen in Ost-Berlin(3) |
| SR Fernsehen | Sun | 10.04. | 05:20 | Auswärtsspiel - Die Toten Hosen in Ost-Berlin(3) |
Follow Die Toten Hosen:
Website | Instagram | Facebook