Waldeck - "Grand Casino Hotel" - the new album
Klaus Waldeck proudly presents "Grand Casino Hotel" - his 6th studio album and by far his most cinematic.
June 22, 2020
Over the last decade Waldeck has often taken an inspiration from a certain musical genre or era, the essence of which he took as a blueprint for his musical ventures: Let's think of his "Ballroom Stories" (2007), considered to be one of the most influential Electro Swing albums, "Gran Paradiso" (2016), his homage to spaghetti western and Italian canzone or the latest "Atlantic Ballroom" (2018) featuring jazz-flavoured crime fiction sounds of the late 1960s.
This time around Mr. Waldeck enters the realm of American road movies - in all its different shades and colors - a genre where the journey is the reward and the reward is freedom.
When listening to "Grand Casino Hotel" you will immediately find yourself drawn into dire desert landscapes where cheap motels with drained pools and endless highways outline the scenery. Klaus Waldeck: "Grand Casino Hotel is not just a "widescreen cinemascope soundtrack", it is a metaphor for the traveller, who - in search for a fast and lucky strike - fails to arrive at his place of longing."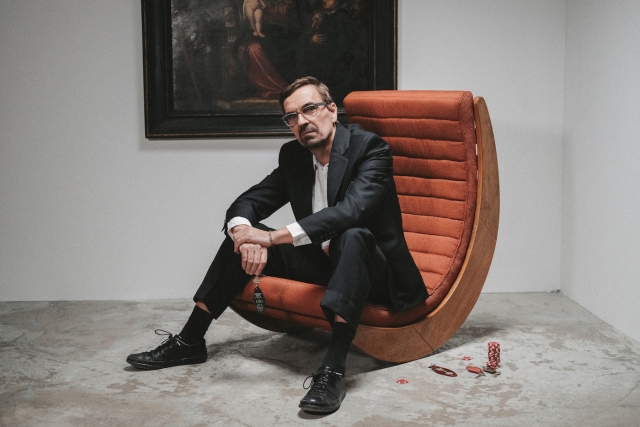 Sharp guitar riffs and pulsating bass lines along with cleverly knit electronic fabrics add to the special appeal of the album's "road movie credibility". "Grand Casino Hotel" is 12 tracks about deserted drive-ins, trailer parks, miserable strangers. Brooklyn's Bedford-Stuyvesant enters the scene. At one point we find ourselves crossing David Lynch's Lost Highway.
Waldeck is accompanied on his road trip by his trusted long term companions, namely the singers: Patrizia Ferrara (A, Italy), Zeebee (A) und Joy Malcolm (UK); as well as British singer Carl Avory (UK).
Recently, Waldeck's work was featured in movie and TV productions (among others, an episode of Grey's Anatomy and spots for Versace and Ferrero). In addition to this, Waldeck's music has been streamed over 100 million times.
"Grand Casino Hotel" is breaking new ground in a musical genre Waldeck has helped define. Its trailblazing passion for freedom and independence offers a welcome intermission from these quarantined times.
Fragments of a Zoom discussion with Waldeck on "Grand Casino Hotel": "Hey, can't hear you. Is your mic on?"… "No. I think that was Miles Davis. Are you using a filter on your camera?" … "It is too simple to relate this childhood memories. I was educated to be lawyer, but I'm still taking piano lessons." … "I toured New York State in 2002 but we covered most ground in the dark." … "Cars are great. I love cars. My first was a VW Beetle. I even bought an old Alfa Romeo to shoot the video for my last but one release, Gran Paradiso. My mechanic loves it, too."…."I think I lost the connection. Hello?" "Bloody internet.."
Follow Waldeck:
Website
Facebook
YouTube
Spotify
Deezer
iTunes
Apple Music
Follow SMV:
Facebook
Instagram
Twitter