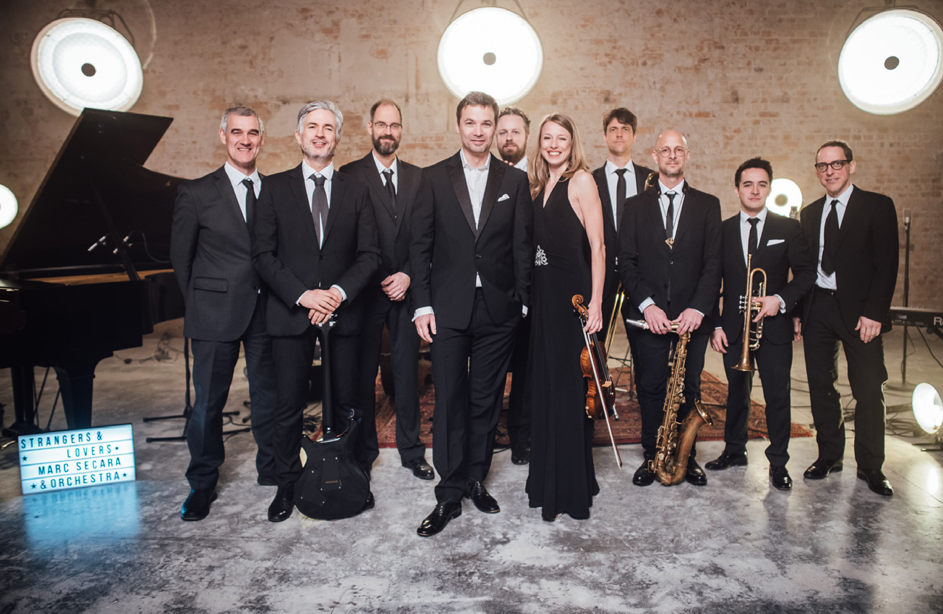 Marc Secara & Orchestra - "Strangers & Lovers" Tour 2019
On their "Strangers & Lovers" tour 2019 Marc Secara & Orchestra will give their full attention to Hamburg's composer Bert Kaempfert and will present his original sound along with new arrangements on several dates throughout Germany this December.
November 08, 2019
Bert Kaempfert composed global hits such as "Strangers in the Night", "Spanish Eyes", "L.O.V.E.", "Danke Schoen" and many more. He discovered the beatles and his songs were sung by legends such as Frank Sinatra, Elvis, Al Martino, Ella Fitzgerald, Dean Martin, Sammy Davis Jr., Nat King Cole and several others. He wrote musical history – his easy-listening sound and compositions are still firm favourites in the international music scene to this day. In 1993, he was posthumously inducted into the Songwriters Hall of Fame, the first German to receive the honour.
Now the singer Marc Secara and his orchestra - a 9-headed all star instrumentation - will bring these evergreens to several stages throughout Germany. Expect to hear the typical Kaempfert-sound along with fantastic new arrangements. And as this tour is set in the Christmas time maybe there will also be some Christmas classics in the set.

Marc Secara & Orchestra - "Strangers & Lovers" Tour 2019
For further info visit: www.strangers-and-lovers.com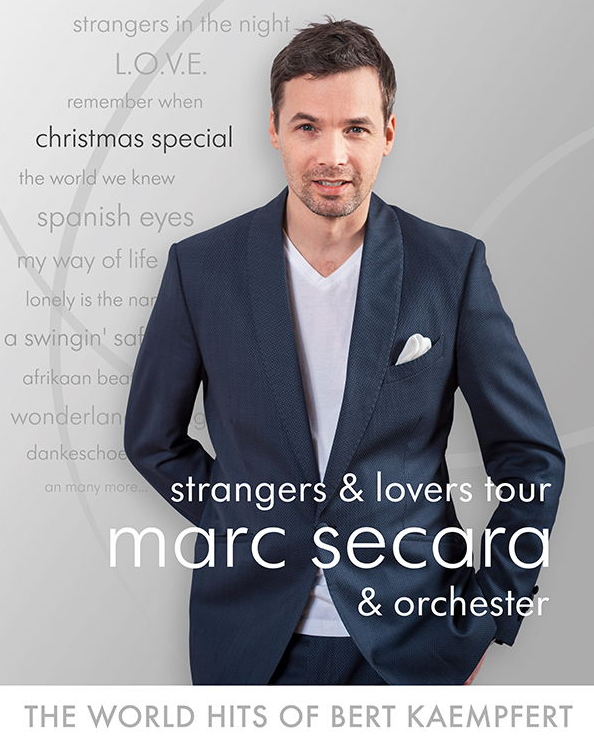 6. Dezember 2019
Marc Secara "STRANGERS & LOVERS" Tour 2019
City: Rostock
Location: Theater des Friedens
Band: Marc Secara & Orchester
Tickets: https://www.theater-des-friedens.de/programm/
13. Dezember 2019
Marc Secara "STRANGERS & LOVERS" Tour 2019
City: Rheinsberg
Location: Kammeroper
Tickets: https://kammeroper-schloss-rheinsberg.de/produktionen/strangers-lovers/
14. Dezember 2019
Marc Secara "STRANGERS & LOVERS" Tour 2019
City: Bad Neustadt
Location: Stadthalle
Tickets: https://www.stadthalle-bad-neustadt.de/veranstaltungskalender/event/marc-secara-orchester

15. Dezember 2019
Marc Secara "STRANGERS & LOVERS" Tour 2019
City: Sonneberg
Location: Gesellschaftshaus
Tickets: http://www.gesellschaftshaus-sonneberg.de/veranstaltungen.html

16. Dezember 2019
Marc Secara "STRANGERS & LOVERS" Tour 2019
City: Bremen
Location: Metropol Theater
Band: Marc Secara & Orchester
Tickets: https://metropol-theater-bremen.de/programm/events/the-world-hits-of-bert-kaempfert-marc-secara-orchester-dez19/

17. Dezember 2019
Marc Secara "STRANGERS & LOVERS" Tour 2019
City: Hamburg
Location: Laiszhalle
Band: Marc Secara & Orchester
Tickets: https://www.elbphilharmonie.de/de/programm/marc-secara-orchestra/13626

20. Dezember 2019
Marc Secara "STRANGERS & LOVERS" Tour 2019
City: Leipzig
Location: Media City & Studio 5
Band: Marc Secara & Orchester
Tickets: https://www.eventim.de/event/the-world-hits-of-bert-kaempfert-marc-secara-orchester-media-city-leipzig-studio-5-12243026/

22. Dezember 2019
Marc Secara "STRANGERS & LOVERS" Tour 2019
City: Berlin
Location: Die Wühlmäuse
Tickets: https://www.wuehlmaeuse.de//spielplan/details/7729/Strangers-Lovers