LIEBLINGSPLATTE Festival at zakk Dec 10-17th – Fehlfarben "Monarchie und Alltag"
A brand new music festival "LIEBLINGSPLATTE" ("favourite album") is about to open its doors in Düsseldorf's renowned political and cultural venue zakk – not like anything you've ever seen before!
August 04, 2016
Seven handpicked German bands and solo acts are performing their most outstanding albums which influenced entire generations and broke new ground in their genres. 40 years of German music history, ranging from Indie rock, Krautrock to Hip Hop and Electronica. Among those the legendary band "Fehlfarben".
Fehlfarben's "Monarchie und Alltag" is a giant of German music history, a milestone album to date, a piece of history. The Rolling Stone Magazine named it the most important German pop album of all times. Without "Monarchie und Alltag" the nineties musical movement "Hamburger Schule" would not have been possible. The album was produced at the end of the seventies all around the "Ratinger Hof" scene, including DAF, KFC and ZK (which later became "Die Toten Hosen"), dealing with the German postwar decades and expressing the zeitgeist of the late seventies like no other had done before and after.
There is no better opener for "LIEBLINGSPLATTE" than Fehlfarben's "Monarchie und Alltag"!
Other acts that will perform their ground-breaking albums at this year's festival are: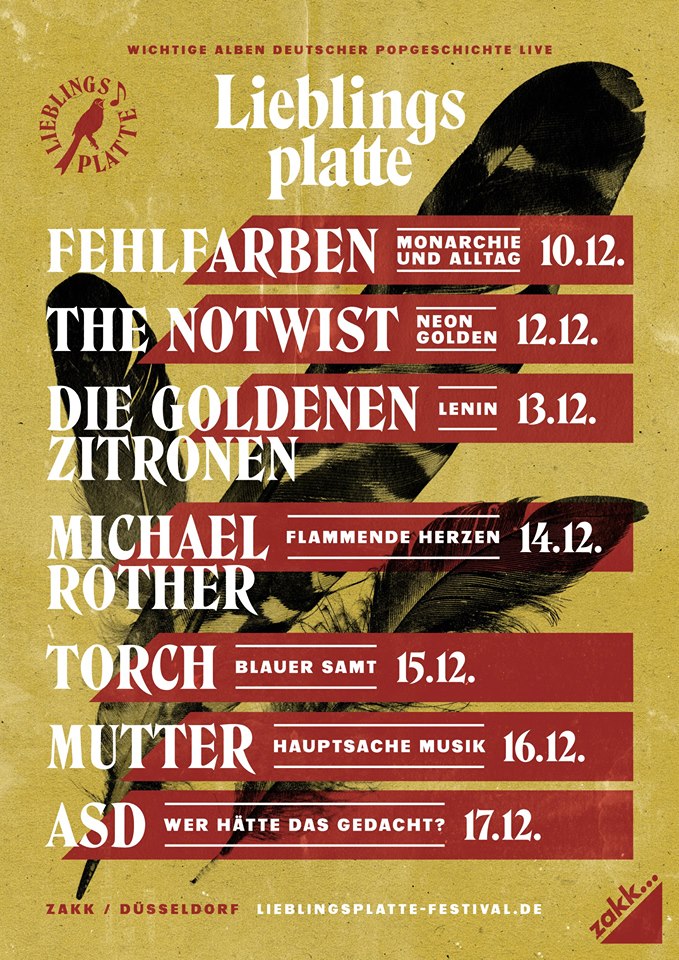 https://www.facebook.com/lieblingsplattefestival
http://www.lieblingsplatte-festival.net
https://www.zakk.de