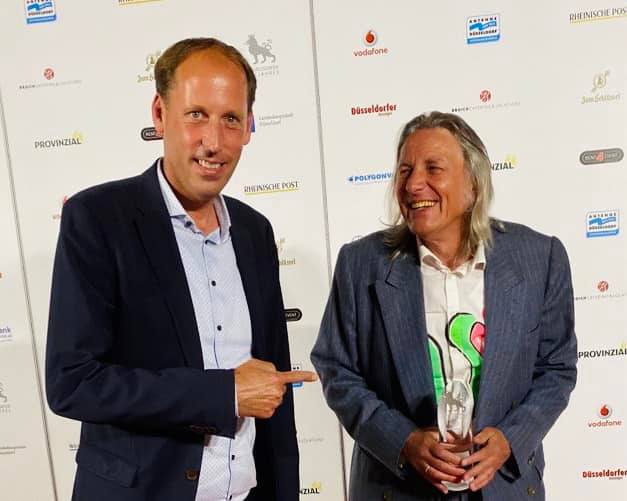 Peter Hein receives "Düsseldorfer Des Jahres" award for his life's work
The singer of the iconic band Fehlfarben and Düsseldorf native accepted the award in Düsseldorf yesterday.
May 10, 2022
This year Peter Hein was awarded "Düsseldorfer of the year" in the lifetime achievement category. Over 40 years ago he was one of the pioneers of punk in Germany and has since then been successful as the vocalist for Fehlfarben. For the thirteenth time, Rheinische Post honored people with special achievementsl at a festive gala. Volksbank Düsseldorf Neuss took over the patronage of the lifetime achievement category.
In the evening (May 9, 2022), the award winners were honored at the event in the Ständehaus/K21. IHK Chief Executive Gregor Berghausen received the award in the business category. Marcus Stahl and Patrick Fassbender, the inventors of the "Toniebox", were awarded for Innovation & Sustainability. In the Culture category, the jury chose Christiane Oxenfort and Andreas Dahmen, the inventors of the "Düsseldorf Festival". Düsseldorf-born Peter Hein received the prize for his life's work. The singer of the band Fehlfarben is one of the founding residents of the Ratinger Hof. Other award winners were Olympic medal winner and judoka Johannes Frey, as well as Christin Wunder and Manfred Novacek for their projects Flood Relief and Sports Instead of Roads.
Follow Fehlfarben:
Website