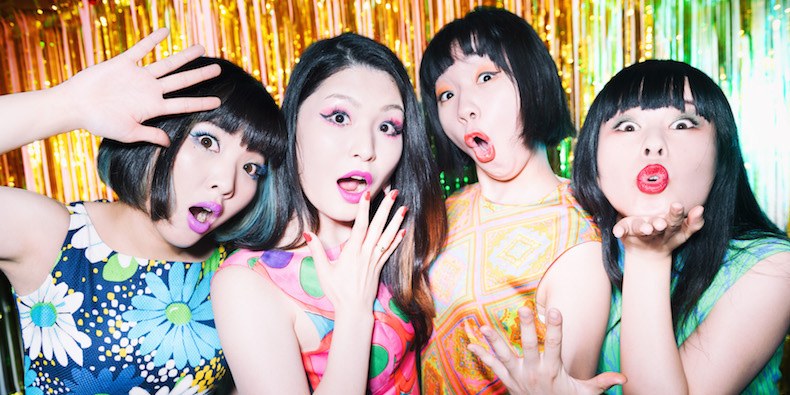 Otoboke Beaver - ITEKOMA HITS
ITEKOMA HITS is the new album by Otoboke Beaver, released on April 26, 2019 via Damnably.
April 16, 2019
Otoboke Beaver おとぼけビ~バ~ are a punk-rock-garage quartet from Kyoto, Japan. The band's name is taken from a local 'Love Hotel' and they describe themselves as: "Japanese girls 'knock out or pound cake' band". Formed in 2009's summer at Kyoto University's music club, the band consists of Accorinrin (Lead Vocal & Guitar), Yoyoyoshie (Guitar & Vocals), Hiro-chan (Bass & Vocals) and Kahokiss (Drums & Vocals).
2017 was a breakthrough year for the band with attention from Pitchfork, NPR, i-D and The Fader, acclaimed SXSW & Fuji Rock Festival debuts, a sold-out 100 Club show, and their 'Love Is Short' 7" sat in the UK charts for 4 weeks. 2018 saw the band cram three UK dates inbetween slots at Coachella Music Festival this April.
In 2019 the band returns to SXSW then tour the UK on the GOLDENWEEK 2019 Tour with Say Sue Me (KR) and Drinking Girls and Boys Choir (KR).
The Japanese punk quartet's new album ITEKOMA HITS will now be released on April 26 via Damnably.
The album features 6 new tracks recorded in 2018. The other tracks are all three songs from 2017's "Love Is Short" EP, all three songs from 2016's "Bakuro Book" EP and their 2018 single "anata watashi daita ato yome no meshi".
Upcoming Tour dates:
Mar 11-17 SXSW 2019 Austin, TX USA
GOLDEN WEEK UK TOUR 2019
w/ Say Sue Me (KR) & Drinking Boys and Girls Choir (KR)
April 29 Manchester - The Deaf Institute
April 30 Leicester - The Musician Pub
May 1 Bristol - The Fleece Bristol
May 2 London - Scala
May 3 Leeds - Brudenell Social Club
May 4 Glasgow - CCA Glasgow