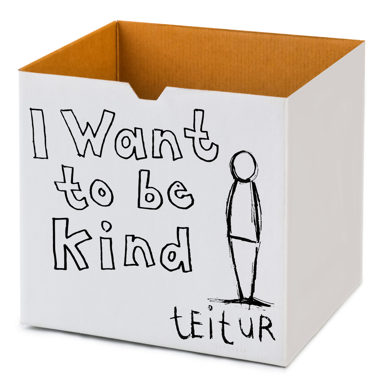 Teitur - "I Want To Be Kind"
Singer/Songwriter and Faroese near legend Teitur returns with his long awaited solo album, his first in nearly 5 years, called: "I Want To Be Kind".
June 08, 2018

The new album, was recorded in the USA in New York, with longtime friend Thomas Bartlett (aka "Doveman") producing, who has worked with Sufjan Stevens/St. Vincent/The National and many others; and it was recorded at the legendary Reservoir Studios (where Bowie/Lou Reed/etc have recorded), and mixed by 4X Grammy award winning engineer Patrick Dillett, who frequently works with Thomas, David Byrne, Nile Rodgers and many more.

This is the first album since his second record in 2006, Stay Under The Stars, that Teitur has worked with a producer, as Teitur explains:

"...Thomas is a friend that I first met ages ago in New York, and he is also friends with Nico Muhly. Moving towards making a new album, I felt I had cornered myself by doing everything on my own and needed a collaborator. This is why I reached out to Thomas, so he could help me make this record. To me, the music and chords sounded very New York and American and I made all the songs for the piano, so it made sense that I talked with Thomas. Being so used to accompanying singers he could also play the piano and let me sing when i needed to..."

Teitur flew to New York a couple of times in late 2017, to record in the legendary Reservoir Studios with Teitur and Thomas playing all the instruments apart from one guest musician......Whilst in the studio, co-owner and famed mixing engineer Pat Dillett, popped in to listen and make some suggestions and then asked if he could mix the record, which proved to be a wonderful success; says Pat Dillett of Teitur:
"Teitur has found serenity in being who he is, while continuing to search for more in life."

The songs were written over the past few years, many while Teitur was travelling the world performing, making music, including:

German singer Judith Holofernes, front woman of Rock/Pop band Wir Sind Helden, who were big in Germany in the period 2002-10. Teitur and Judith were brought together when she started performing live a German version of Teitur's song "Catherine The Waitress", re-imagined as "Jonathan Der Kellner", and Teitur's manager contacted her manager, an old friend, to find out the story as to why, and they got the two artists together to see what music might happen. They became fast friends and Teitur went on to co-write and co-produce Judith's 2017 top 15 German album "Ich Bin Das Chaos", as well as writing more songs together in Berlin and in the Faroes, including songs on this album , namely Teitur's new single "Sara", as well as "Bird Calls", "Playing House" and the title track, "I Want To Be Kind".
This title track song was also co-written with famous US singer Aloe Blacc, of the worldwide smashes "I Need a Dollar" and Avici's "Wake Me up" fame; Teitur and Aloe met when Teitur performed at one of the prestigious Ted Talk conferences, in Vancouver, where they both were, and they went on to do some writing together...

The Song "I Have Found My Happiness" was written with an Argentinian artist named Lucio Mantel"...when I went on a tour of South America in late 2016, which was phenomenal. I met Lucio Mantel when I was in Argentina on this trip and we became good friends and learned a lot from each other and this song came from that. I was very inspired to be in South America, my wife and I took our son, who was only three months and we were there for 4 weeks in all..."

"Quite a lot, Only Slightly, Very Much", was written with Danish singer, the delightfully named Per Worm: "..I was invited to write hymnals for the new Danish hymnbook and was encouraged to bring the present and realism into the material, so my friend Per Worm suggested that we turn the Goldberg Depression test into a hymnal, which is what we did. To our surprise it was accepted into the hymnal book and "Quite a Lot, Only Slightly, Very Much" is my English translation of the original Danish Hymn that we wrote.
Since releasing his last album, Story Music, in 2013, Teitur has, amongst other things:

- Released a Contemporary Classical album "Confessions" with Classical wunderkind Nico Muhly in 2016, together recently selling out the 1400 Capacity Elbphilharmonie in Hamburg....

- Had a mention in Salman Rushdie's new book, as Teitur explains:
"..Salman Rushdie came to a performance of Confessions in New York and I thought it was a little intense, because he was in front row filming me and I came straight from being in a divine bubble in the Faroes where we had just become parents. Later when I was back home, one morning Thomas texted me from the Subway and asked if I knew I was in his new book. The book is called "The Golden House" and it's very good! I'm proud to have a cameo there, I have read several of his books. "

- Performed for the Queen of Denmark..

- Released a No.1 Electronica album with Danish artist Mads Bjorn
...and much more...


The album "I Want To Be Kind" was released on June 8, 2018 on Arlo and Betty Recordings/Ferryhouse/Warner/Playground/AWAL.
You can listen to and order the album here: https://teiturmusic.lnk.to/IWanttoBeKindSt